Conan Go Bye-Bye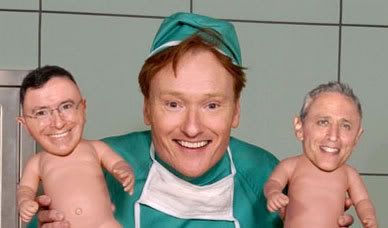 Today marks the end of an era. After almost 16 years, Conan O'Brien is leaving Late Night to replace Jay Leno on The Tonight Show. I'd like to commemorate tonight's final episode by posting part of Conan's very first episode.

The first couple of seasons were really rough for Conan--he didn't get a lot of good reviews initially. In fact, a few years ago, I was perusing a book (or passages of) about the worst TV Shows in History published in the mid '90s, and Late Night With Conan O'Brien is listed among them. Conan managed to persevere, NBC remained patient, and the rest is history.

What amazes me is how skinny Conan was back then, and how floppy everyone's hair was, especially Max Weinberg's. This particular episode has its embarassing moments (the "Actual Items" bit, for one), but there's flashes of brilliance that Conan would be famous for.

I'll be sure to watch Conan on The Tonight Show when it debuts in June, but I'll miss Late Night. I have too many memories that span from high school onward of staying up late and watching Late Night.

Labels: Conan O'Brien, Good-Bye, Late Night With Conan O'Brien, The Tonight Show