Ithaca: A Photoplay (Sort Of)
Today I went to Ithaca again, because it was supposed to be a nice day, and we haven't had too many of those lately. After weeks of being cramped and landlocked by the weather, it was nice to get away, even if it was only for the day. Not only was it a nice day, the sun was out and there was no wind whatsoever.

While I was there, I took a lot of pictures that will eventually appear in my "Ithaca Travel Guide" that will appear in my zine.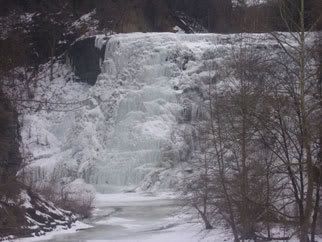 This is the Fall Creek Gorge. I was hoping to get a beautiful picture with the water falling, but I forgot that it's February. Even though it's ice, I think it's beautiful anyway.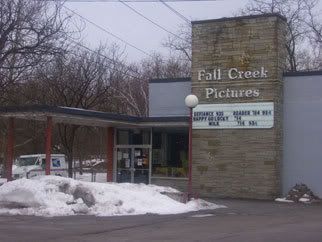 Fall Creek Pictures. When I lived here, I would go here to see movies. My viewing of Jim Jarmusch's Coffee and Cigarettes at this theater was a memorable one. More recently, I shot a YouTube video here:
This is Gimme! Coffee. The shutter on my camera is crappy (by design, not damage), so I wasn't able to get a good "action" picture of the barista. Anyway, if Gimme! Coffee doesn't wake you up, nothing will.

Later I came back to the Commons, and decided to go into Petrune to take some pictures. The owner came up and asked me why I was taking pictures. I told her for my blog. Meaning this blog. Which means she might be reading it now, since I gave her the URL. Actually, she was reading it on the way out. Here's one of the pictures I snapped here:

I snapped a few more pictures at other places, then I went off to the Ithaca Mall, then Wegmans.

As I was walking around downtown, I thought, "Gee, wouldn't it be nice for Ithaca to have its own film festival? Ithaca is a great location for one...actually, I've thought about it quite a bit. I daydreamed about how I would go about obtaining sponsorship. Get local people behind it, then look elsewhere.

I'm looking forward to this weekend, if mainly because it's supposed to be in the forties. I'll be thinking about SXSW, but also the potential documentary I thought about yesterday. Off to finish the Tom Petty documentary!
Labels: Adventuring, Fall Creek Gorge, Fall Creek Pictures, Gimme Coffee, Ithaca, Ithaca Commons, Petrune, Photo Play, SXSW, Tom Petty, zine