Sesame Street: It's Super Grover!
I've been meaning to post more Sesame Street videos for awhile now, but I've been sidetracked by other things. This particular post is devoted to that "cute, furry little monster", Grover.

Grover is a well intentioned guy who frequently finds himself in over his head. He often misreads the people he is communicating with, and gets into trouble.
"Near and Far"
Anyone who watched Sesame Street regularly as a kid will remember this one. Grover demonstrates the differences between "near" and "far". Grover gets close to the camera to demonstrate "near", and moves further away from the camera to demonstrate "far".

"Super Grover: EXIT"
Every once in awhile, Grover breaks into his alter ego, "Super Grover". Grover's presence is sometimes a nuisance, like in this clip. Freddy wants to get over the fence. Grover tries to pry the bars open, but Freddy eventually finds the exit sign.

"Grover the Waiter: The Big Hamburger"
A customer orders a hamburger only to find out that there are two sizes of hamburgers: big and small. The customer orders a small hamburger, only to find that it is too small for him. Grover tries to coerce him into ordering more small hamburgers, but the customer is adamant on ordering a big hamburger. Grover complies to his wishes, but it's more than what the customer bargained for.

"Disco Grover"
Grover dances to a disco version of the alphabet. The other monsters seem to have no trouble dancing--I wondered if they had something more than just drinks.

I'm thinking the clip might have been a cross promotion for this classic album: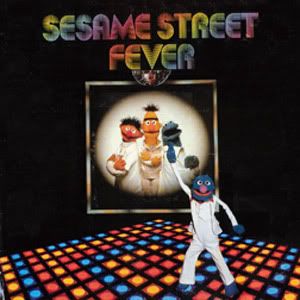 Image courtesy of Muppet Wiki
Labels: Grover, Sesame Street, Sesame Street Fever, Super Grover