Modern Love Is Automatic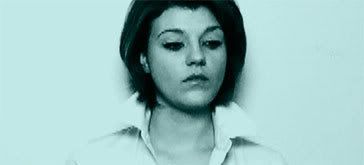 This past Friday Night, I had a chance to view Zach Clark's Modern Love is Automatic. I've been itching to see this since I first read about it at the SpoutBlog. I won't be staying for the entire duration for the festival this year, so when I got a message in my inbox about getting a free press screener, I jumped at the chance.

Modern Love tells the story of Lorraine Schultz, a nurse at a podiatrist's office (I believe), who after a series of unfortunate events, decides to channel her pain and anger by becoming a dominatrix. The movie also follows her new roommate, Adrian, as she tries to launch a modelling career.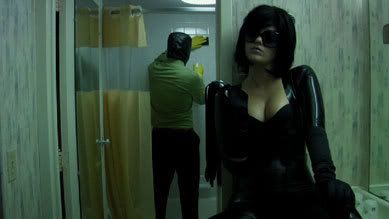 Clark worked as an editor on Aaron Katz's Dance Party USA, and Modern Love has a stylization usually absent from this type of motion picture. (Not that stylization is necessary most of the time.) "No Wave Douglas Sirk" isn't a bad description for this movie, but I see shades of Wes Anderson here, too; not only with the stylization but also with the characterization of Adrian and the sadness underneath it all. Leading lady Melodie Sisk is a curvy, husky-voiced leading lady in the vein of Susan Hayward and Kathleen Turner, and Maggie Ross' comical performance conceals the innate desperation of Adrian. The only bone I had to pick, really, was the death-metal music, which came off loud on my DVD player (but maybe sounds better in a theater setting). Even that, however, seems to be compliant with The Yeah Yeah Yeahs production values of Modern Love.
I'm not a very good critic, but if you're going to SXSW this year, check this one out if you have the opportunity. You can see it where and when at:
7:30 PM, Sunday March 15th - Alamo Ritz 2




9:00 PM, Thursday March 19th - Alamo Lamar 2




7:15 PM, Saturday March 21st - Alamo Lamar 2
Labels: Aaron Katz, Douglas Sirk, Modern Love Is Automatic, SXSW, Wes Anderson, Zach Clark