Ithaca: Another Photoplay
Yesterday I scored 22/28 on the census test. You only needed to have 10 questions right to pass. After I passed, they gave me a brochure which explains "what happens now".

Today I went back to Ithaca, for two reasons: 1.) Because I wanted to go one more time before I went to Austin, and 2.) Now that Spring will be here sooner rather than later, I wanted to get accustomed to driving distances again.

At 10am, I had a waxing appointment at the same Beauty Shop of the Woman who kicked me out last December. She waxed my chin and eyebrows, and the whole thing cost me $54. $22 for the eyebrows, and $16 each for the upper chin and the lower chin. She showed me price list, so she wasn't overcharging me out of anger. I'll never patronize her business again.

Other than getting stiffed, my day went very well. I went to the library, dropped off one book, picked up another. Then I walked around and took some pictures: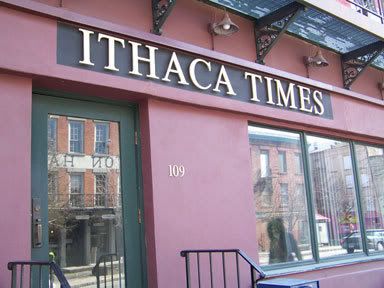 This is the office for The Ithaca Times, Ithaca's "alternative" paper. Last fall, I wrote them, offering to write movie reviews. Maybe they don't need me, but they couldn't have sent a "Thanks, but no thanks" letter. After all, I go to festivals and stay on top of that stuff. It's a shitty time for newspapers all around, but still.

A few years ago, someone tried to launch another alternative paper, but alas, that didn't happen. Which is a shame, because Ithaca could use an edgier publication. The Ithaca Times, IMO, is every bit as alternative as Lawrence Welk.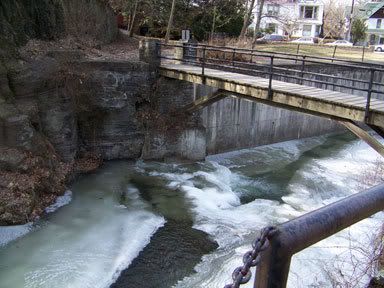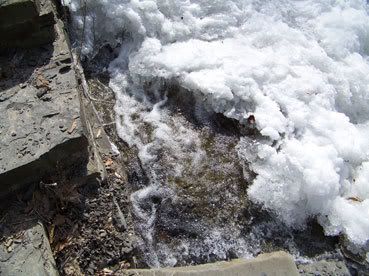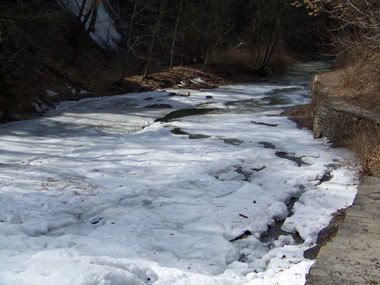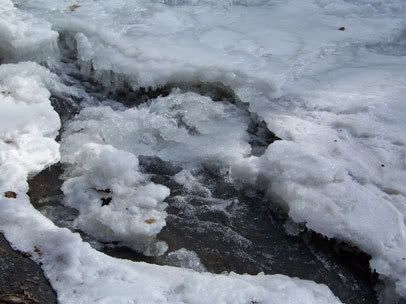 The above are all pictures I took at the Cascadilla Gorge. (A couple of the files are listed as "Fall Creek"; I only noticed the mistake after I uploaded them to Photobucket, and PB doesn't allow me to rename them.) It may be March, and while we haven't had a serious snowfall in awhile, as you can see that much of the Gorge is still embedded with ice. With the temperatures going up, I'm sure it will start to melt soon.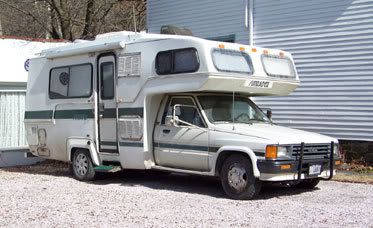 I passed this RV on the walk back from the Fall Creek Gorge. (One of the pictures will appear on the cover of the zine.) For awhile now, I've sort of fantasized about living out of an RV while I work on future projects and continue to travel to festivals. It would sure save money on rent, but I know my family would be very concerned about my safety (and rightfully so). I don't this RV is up for sale, though.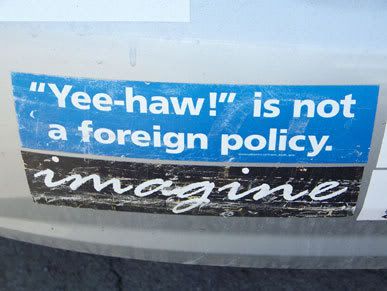 Bush may be out of office, but I think the blue bumper sticker is still funny.

On my way back, I stopped in Interlaken, where a '85 Ford Econoline Van was up for sale. It has 345,000 miles on it, and it's being offered for $1650. It looked intriguing to me because it had a lot of camper amenities, would satiate my desire for travel. Unfortunately, I have no job to pay for it, and I have no idea how much the insurance will cost.

The weather was in the upper 40s/low 50s most of the day, so I wore my sweatshirt on top of my long sleeves. Tomorrow, they're talking about it going into the '50s, so I guess it's back to the lakefront for another walk!
Labels: 2010 Census, Cascadilla Gorge, driving, Ford Econoline Van, Ithaca, Ithaca Times, RV, Warm Weather, waxing